Hi All! I hope that you are all on your way to enjoying your summer break. However, by reading many of your amazing blogs, I can tell that you are working tediously and are already preparing for next year. I would like to say thanks to Jessica from
Mrs. Stanford's Class
for her wonderful Blogging
Pet-Peeve Linky Party
. I learned so much from you all that I was inspired to do my very first Linky Party. Soooo here it is....I would love for you all to Link Up and share your favorite blogging TIP or two (pun intended lol). As a new blogger I would so appreciate learning from you all. There isn't anything better than a teacher learning from a fellow teacher, don't you think?
Because I am so new to blogging and I haven't truly learned anything new on my own, I am sharing what I learned from a couple of pros.....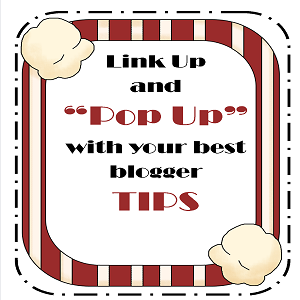 1. Read, read, and read some more (sounds like what we tell our students doesn't it?). I have read a gagillion Terms of Use for graphics, help pages, and of course your wondeful blogs. This TIP comes from me...I know, pretty much common sense huh?
2. In my reading, I learned about how to create a direct download from
Lady Bug's Teacher Files
3. Next, I loved the idea the Jessica shared regarding how to
create your link
on a comment that you are posting.
Please make a post your favorite blogging TIP or TIPS (the more the merrier). Copy and paste the code for the button above in your post and come back here to Link Up.